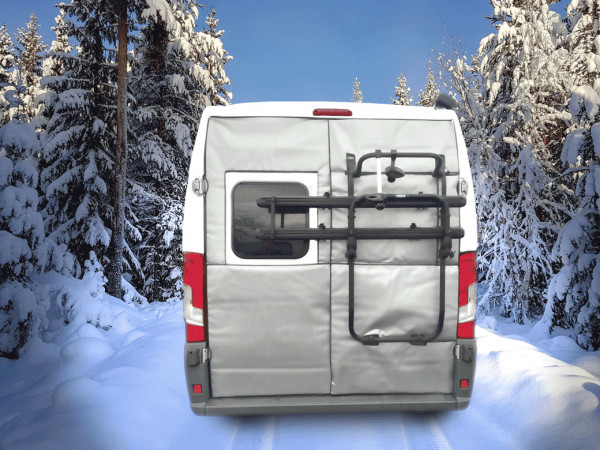 Winter insulation mats for Camper Van rear doors with bike carrier
Recommended retail price including the applicable VAT. Prices may vary from country to country.
Bürstner original accessories are not available ex factory, they are only available directly from your Bürstner licensed dealer. Images shown may be subject to modifications.
Winter insulation mats for Camper Van rear doors with bike carrier
For more comfort during winter camping, insulating mats should not be missing as protection against the cold. The external insulation mat for rear doors for Bürstner Camper Vans is brand new and particularly well thought out. The two-piece mat is simply hung over the door using the flaps and, thanks to the high-quality material, offers particularly high insulating performance. The windows can be opened for more light in the vehicle and an unobstructed view outside. The gap between the doors is overlapped by the insulation mat to prevent drafts.
The highlight: The insulation mat can be used in conjunction with the Thule bike carrier Elite Van XT. This is ensured by precisely fitting recesses and Velcro fasteners.
Advantages over interior insulation mats: better insulation performance and protection against condensation, no disturbing mat inside the vehicle, free access to the vehicle through normal opening of the rear doors, particularly easy installation.
- Tear-resistant, easy-care material
- Easy handling
- Very good insulation performance thanks to special fabric
- Can be used with Thule Bike carrier Elite Van XT
Please remove before departure. Please ensure the appropriate securing of the item and, if necessary, stow it during the journey.