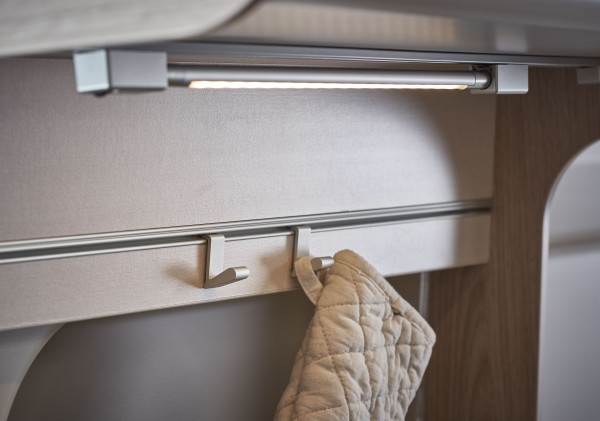 Hook for the kitchen rail system
Camper vans
Recommended retail price including the applicable VAT. Prices may vary from country to country.
Bürstner original accessories are not available ex factory, they are only available directly from your Bürstner licensed dealer. Images shown may be subject to modifications.
Material Aluminium
Number of modules 1
Model years 2020
Vehicle type Camper vans
Dimensions 15 x 24 x 34 mm (BxTxH)
Note Please keep sufficient distance to the cooker and the open flame when attaching utensils
Model range / model Campeo
Suitable for Kitchen rail system
Hook for the kitchen rail system
For more order in the kitchen. Simply hooked into the kitchen rail, potholders, ladle and spatula are always within reach. The relaxed cooking is nothing in the way. There's nothing to keep you from relaxed cooking.
- Dimensions: 15 x 24 x 34 mm (WxDxH)
- High quality aluminum hook
- For use in vehicles equipped with the kitchen rail system