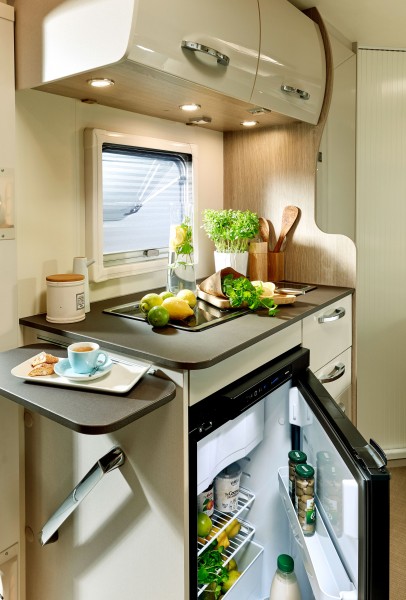 Recommended retail price including the applicable VAT. Prices may vary from country to country.
Bürstner original accessories are not available ex factory, they are only available directly from your Bürstner licensed dealer. Images shown may be subject to modifications.
Kitchen plate extension
Discover a practical accessory made by Bürstner for more storage space in the kitchen. Thanks to the rail (for use in vehicles equipped with the rail system), the kitchen plate extension can be easily plugged in/ removed if necessary. This gives you additional storage space that can be used flexibly. The high-quality surface design fits perfectly into the interior of your vehicle.
- Dimensions: 15.4 x 230 x 456 mm
- Only to be used in conjunction with the rail installed ex works
- Load capacity max. 4 kg
Please pay attention to a suitable load securing of the article. The kitchen shelf must be removed and safely stowed away while driving.
Write an evaluation
Evaluations will be activated after verification.