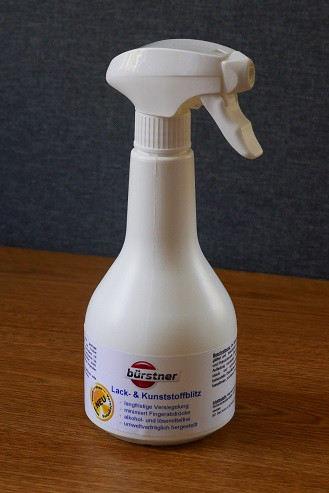 Camper vans

Caravanes

Motorhomes
Content:
0.5 Liter (€29.90 / 1 Liter)
Recommended retail price including the applicable VAT. Prices may vary from country to country.
Bürstner original accessories are not available ex factory, they are only available directly from your Bürstner licensed dealer. Images shown may be subject to modifications.
Contents 500 ml
Vehicle type Camper vans, Caravanes, Motorhomes
Polish spray
Makes everything smooth - even on-the-go. Bürstner Polish spray smoothens, waterproofs and coats all finishes, synthetic materials and polycarbonates, while preventing electrostatic charge. Sealed areas become dust and dirt resistant, treated surfaces can be cleaned with a lint-free, dry cloth for a long period.
- long-term sealing
- minimizes fingerprints
- alcohol- & solvent-free
- produced in an environmentally-friendly manner
Shake product well before use!
Usage: Spray Bürstner Polish spray sparingly onto the thoroughly cleaned surface. Polish the seal thoroughly immediately after application with a lint-free, dry cloth (cellulose, do not use a micro-fiber cloth), until a sealed smooth effect is noticeable. Intensive pre-cleaning is absolutely necessary, otherwise the dirt particles can form streaks. Linen cloth is recommended for polishing – unlike cotton and synthetics, linen hardly causes electrostatic charge.