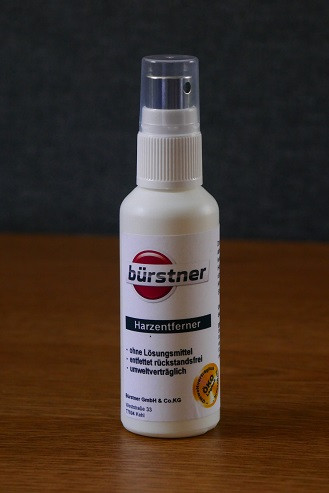 Wohnmobile

Wohnvans

Wohnwagen
Recommended retail price including the applicable VAT. Prices may vary from country to country.
Bürstner original accessories are not available ex factory, they are only available directly from your Bürstner licensed dealer. Images shown may be subject to modifications.
Vehicle type Wohnmobile, Wohnvans, Wohnwagen
Contents 50 ml
Resin remover
Removes resin, resistant dirt and insects in a gentle way.
In most cases, commercial methylated spirits are used to remove resins as well as sticky residues. Methylated spirits are not subject to any norm in production. Often all kinds of alcohol including industrial alcohol and partly chemicals from the petrochemical sector are used. It is possible that the surfaces can be damaged even after one-time use. In order to prevent this problem, a particularly gentle Bürstner resin remover has been developed. It degreases and removes any signs without residue, without working in an acidic range.
- gentle on all surfaces
- solvent-free
- degreases without leaving a residue
- produced in an environmentally-friendly manner
Shake product well before use!
Spray Bürstner resin remover onto the surface and distribute the product evenly. Then polish with a lint-free, dry cloth (linen cloth, cellulose, kitchen towel, no micro-fiber) until there are no more streaks. Repeat if necessary.
Write an evaluation
Evaluations will be activated after verification.