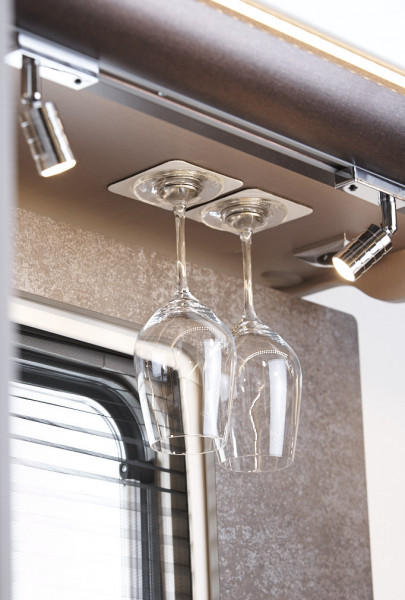 Wohnmobile

Wohnvans

Wohnwagen
Recommended retail price including the applicable VAT. Prices may vary from country to country.
Bürstner original accessories are not available ex factory, they are only available directly from your Bürstner licensed dealer. Images shown may be subject to modifications.
Vehicle type Wohnmobile, Wohnvans, Wohnwagen
Magnetic Wine glasses
A highlight on-the-go – these magnetic glasses are the perfect companion on trips. Cups and glasses are outfitted with magnets, the flexible coasters made from a metallic nano-gel pad adhere perfectly onto virtually any surface and ensure a secure hold. No more rattling or falling over – even on a bumpy ride. A clever stowage system and eye-catcher in one. Made in Germany.
High-grade crystal glasses
2 crystal wine glasses 0.25 l with magnet + 2 washable, slip-proof gel coasters
Dimensions: Height: 217mm; Width: 82mm
Note: Please store the glasses in an upright position while driving. Hanging storage in stationary position only.
Write an evaluation
Evaluations will be activated after verification.