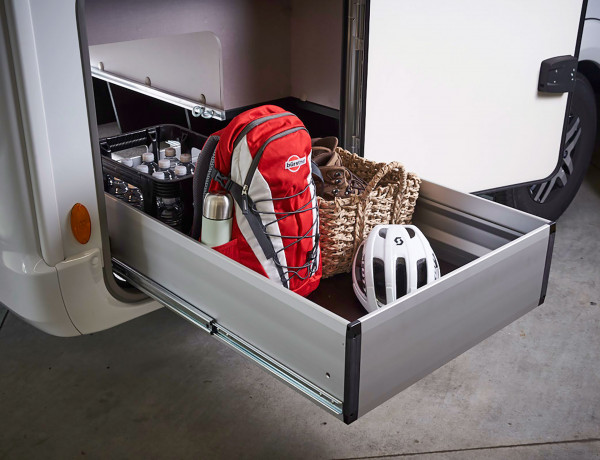 Motorhomes
Recommended retail price including the applicable VAT. Prices may vary from country to country.
Bürstner original accessories are not available ex factory, they are only available directly from your Bürstner licensed dealer. Images shown may be subject to modifications.
Weight 20 kg
Model range / model Ixeo I 700, Ixeo I 729, Ixeo I 736, Ixeo I 744, Ixeo I 746, Ixeo T 690 G, Ixeo T 728, Lyseo TD 690, Lyseo TD 700, Lyseo TD 734, Lyseo TD 736, Lyseo TD 744, Lyseo TD 745
Max. load capacity 140 kg
Note Only in combination with the option: Additional garage door on the left in the direction of travel
Vehicle type Motorhomes
Pull-out luggage box
The solid luggage box puts things in order and can be pulled open comfortably. No more inconvenient climbing to get to luggage and supplies in the back garage areas.
Availability depends on the model, only available with garage door on the left side.
Dimensions: Depth 1050 mm; width (with telescopic rail) 730 mm; height (with mounting bracket): 276 mm
Extension length: 823 mm
Load capacity: 140 kg per pair
Weight: 20 kg