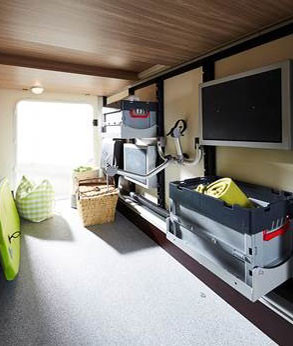 Wohnmobile
Recommended retail price including the applicable VAT. Prices may vary from country to country.
Bürstner original accessories are not available ex factory, they are only available directly from your Bürstner licensed dealer. Images shown may be subject to modifications.
Weight 11 kg
Vehicle type Wohnmobile
Model range / model Ixeo I 690, Ixeo I 728, Ixeo T 690 G, Ixeo T 728, Ixeo TL 728 G, Lyseo TD 680 G, Lyseo TD 690 G, Lyseo TD 710 G, Lyseo TD 727 G, Lyseo TD 728 G
Material Aluminium, Plastic
Garage shelving system
The garage shelving system with folding boxes ensures a tidy rear stowage area and secure stowage of luggage and supplies. The rear stowage area is optimally utilized, the folding boxes can be folded together if desired and swiveled upwards – this way you have the entire stowage area available to transport bulkier items. Solid aluminum profiles, 4 folding boxes and bike mount included.
Availability depends on the model
- Height of shelf post: 994 mm
- Dimensions of folding boxes: 400x300 mm
- Weight: approx. 11 kg
Write an evaluation
Evaluations will be activated after verification.